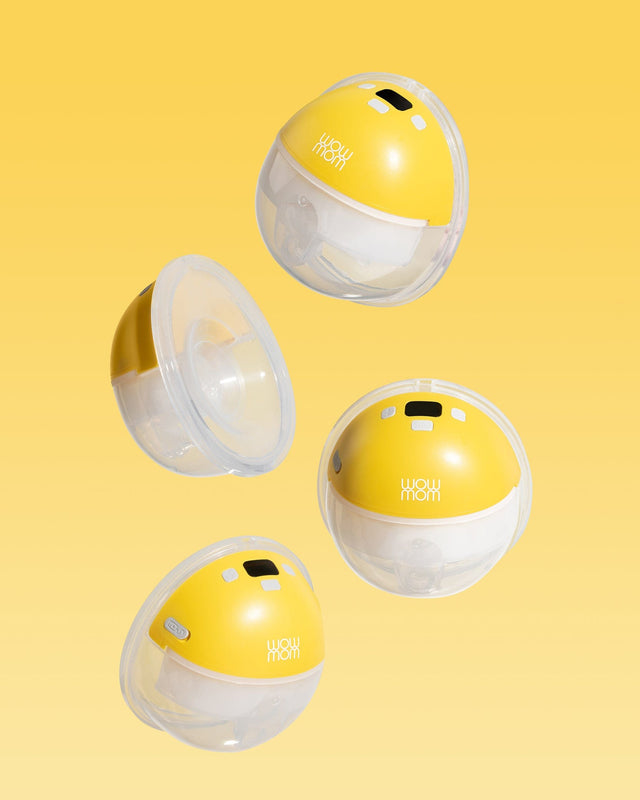 by Wowmom
Double Breast Pump WOWMOM
As a mother you want the best for your baby and breastfeeding plays an important role. Unfortunately, you can't always feed live for whatever reason. Breastpumping is then an option. We want you to be able to pump as comfortably as possible after your leave at work, on the road, during an event or simply at home. With WOWMOM you can pump hands-free anywhere, anytime. No longer the inconvenience of cables and searching for sockets. Our breast pumps are slim and easy to use without others noticing. With the WOWMOM breast pump you have your hands free and enough freedom of movement.
The flask is BPA-free, CE certified and easy to disassemble and clean after use.
The stock has different modes:
Let-down reflex mode:

This mode activates the let-down reflex
massage mode:

With this mode you can enjoy a pleasant massage
Auto Mode:

In auto mode, all steps take place in sequence to optimally express breast milk
Breastfeeding mode:

During this mode, the pump makes pumping movements. This is how the breast milk is pumped best.
The breast pump has a powerful suction and can be set to level 12.
Approximately 200 ml of breast milk fits in each cup. You cannot lie down or lean all the way back or bend completely with the stock.
The breast shield has a standard size of 24mm. Do you need a different format? You can order these via the webshop.
Lifesaver
Ik ben met een baby van 2 maanden op vakantie geweest en kan zeggen dat de wowmom kolf mijn leven heeft vergemakkelijkt. Mijn baby voeden kon gewoon overal, ook op momenten dat aanleggen gewoon bijna onmogelijk was. Thank you!
Echt een super kolf!
Sinds ik deze kolf gebruik, lukt het eindelijk om elke dag genoeg melk te kolven om ook te kunnen invriezen. Hele goede zuigkracht.
Nadat ik afgelopen jaar de dubbele kolf had gewonnen met een winactie is half september ons avontuur begonnen. Vorige zwangerschap kwam de voeding langzaam op gang en is het nooit genoeg geweest waardoor ik met 6 weken ben gestopt. Doordat ik nu met deze kolf ben gaan prenataal kolven had ik direct na de bevalling al een flinke productie (nooit geen overproductie gehad) m'n kindje is in totaliteit maar 80 gram afgevallen!
De kolf heeft een fijne pasvorm, niet storend in geluid en behaald keer op keer een goede opbrengst.
Ik hoop nog op een lang avontuur maar daar twijfel ik niet aan na de ervaring die ik nu al 2 maanden met deze kolf heb.
Wow mom bedankt voor deze gave kolf!
Top!
Hele fijne kolven tot nu toe! Heb er geen problemen mee gehad en de verschillende standen zijn heel fijn. Makkelijk schoon te maken, handig in gebruik en fijn dat je niet aan een snoer vast zit!