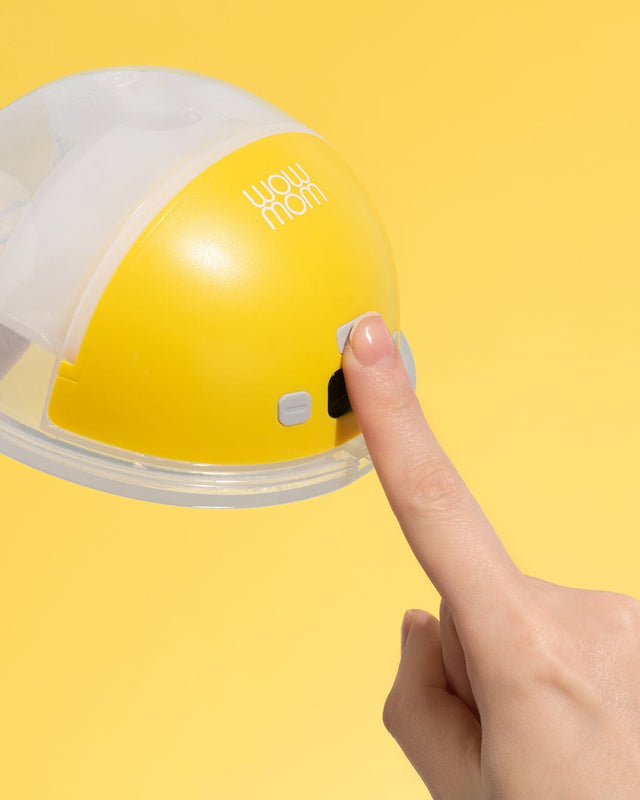 by Wowmom
Single Breast Pump WOWMOM
As a mother you want the best for your baby and breastfeeding plays an important role. Unfortunately, you can't always feed live for whatever reason. Breastpumping is then an option. We want you to be able to pump as comfortably as possible after your leave at work, on the road, during an event or simply at home. With WOWMOM you can pump hands-free anywhere, anytime. No longer the inconvenience of cables and searching for sockets. Our breast pumps are slim and easy to use without others noticing. With the WOWMOM breast pump you have your hands free and enough freedom of movement.
The flask is BPA-free, CE certified and easy to disassemble and clean after use.
The stock has different modes:
Let-down reflex mode: With this mode the let-down reflex is activated
Massage mode: With this mode you can enjoy a pleasant massage
Auto Mode: In auto mode, all steps take place in sequence to optimally express breast milk
Breastfeeding mode: During this mode, the pump makes pumping movements. This is how the breast milk is pumped best.
The breast pump has a powerful suction and can be set to level 12.
Approximately 200 ml of breast milk fits in each cup. You cannot lie down or lean all the way back or bend completely with the stock.
The breast shield has a standard size of 24mm. Do you need a different format? You can order these via the webshop.
Tevreden met wowmom
Mijn melkproductie ging achteruit. In mijn omgeving werd mij de wowmom kolfapparaat aangeraden. Ik heb een enkelborstkolf besteld. Ik gebruik 'm tijdens koken, auto rijden, op de bank, overal en nergens. Super handig.
Fantastisch product
Als mama van 3 kinderen kan ik zeggen dat ik dit een fantastische uitvinding vind! Heel fijn in gebruik. Zonder bedrading (en zoeken naar een stopcontact in de buurt) en te veel poespas. Ik heb mijn handen nu vrij en kan tijdens het kolven mijn eigen ding doen. Ook eenvouding schoon te maken. Lader gaat degelijk mee! Top product!
Fantastische kolf!
Doet z'n werk perfect! Zo ontzettend tevreden. Net begonnen met werken en zonder gedoe kan ik kolven op het werk. Love love love it!
Enkele kolf
Ik heb een enkele kolf gekocht. heb het nog niet kunnen gebruiken maar hij ziet er goed uit. Ook heel fijn die verschillende standen. Handleiding is ook echt duidelijk en onderdelen zijn makkelijk schoon te maken.
Enkel hansfree kolf
Erg handige kolf die makkelijk afwast en goed kolft. Enige minpunt voor mij is het geluid dat hij maakt.